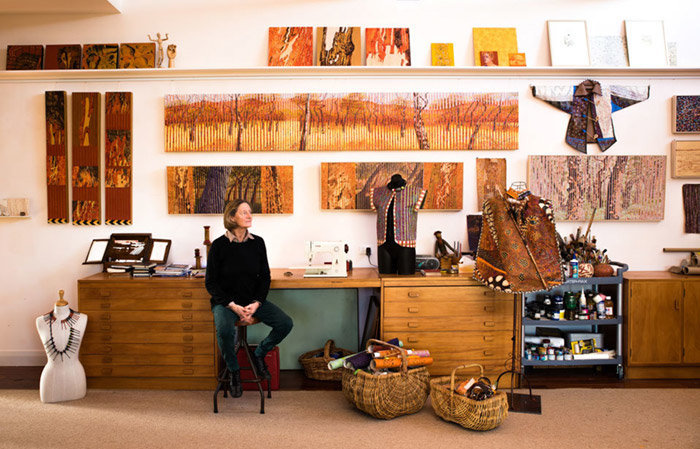 Artist, Teacher, Curator, Writer. Born in England in 1945. Arrived in Australia in 1969 as a young art teacher, with a National Diploma in Design (NDD) London, and a Post Graduate Art Teacher's Diploma (ATD) University of Liverpool. Lesley's practice is driven predominately by a deep appreciation and respect for the Australian landscape. This was evident in her recent solo exhibition 'Becoming Australian' at the Holmes a Court Gallery @ Vasse Felix. Exhibition curator Dr Laetitia Wilson writes:-
"This exhibition offers a window into the exquisite art practice of Western Australian artist Lesley Meaney whose approach to capturing the Australian landscape is dynamic, vibrant and distinctively original. This exhibition is comprised of paintings, objects and stitched works that taken together make for a sensorial experience of fiery sunburnt colours, deep earthy tones and slivers of green. The works evoke a sense of place and especially of being in and belonging to a place, as a sustained, meditative, experimental and unique response to the Australian landscape."
Lesley's recent publication, 'Becoming Australian – an artist's journey', launched at her 50 year survey exhibition, is a visual precis of her evolution as an artist. This book also confirms her vast range of skills, her virtuosity and versatility both in technique and image-making, and with a constantly-shifting focus between abstract and representational elements to create both 2D and 3D works.
Lesley Meaney has also participated in numerous group shows in Australia and overseas. She is represented in many public and private collections, has won numerous awards and is documented in a number of significant Australian art publications. Lesley, a pioneer of the theme exhibition in the 1980's in Western Australia, has held senior lecturing positions in Western Australia, as well as teaching indigenous artists based at Cossack in the North West Pilbara region. She has also run Summer School and Extension classes at the University of Western Australia.
In 2012, Lesley completed her much awaited 80sqm studio– complete with swing! This, as well as her property in Yallingup, is where it all happens. As for her future practice, she states,
"I cannot predict what I will be creating in a decade, next year or even next week. Past works are merely prologue – like a line in a poem or cadence in music".
Outside the studio, Lesley has been involved in a number of sports. She represented Australia in Hockey in the early 1970's and was the first woman to swim solo across the Rottnest Channel. She has been a life-member of the Rottnest Channel Swim Association for a number of years, and in 2018 was inducted into its Hall of Fame. She claims that the discipline required for competitive physical activity not only keeps her fit, able to withstand the 'ups and downs' of a creative life, but helps keep her grounded. She adds,
"Being in the bush or the ocean is my 'church', where many of my artworks have been conceived."